Exclusive Dhan Account Opening Offer – Upto ₹6245 value

Investar partners with Dhan to provide you this exclusive offer:
Open a Dhan account with us to get a FREE Technical Analysis webinar (worth Rs. 2000) + Free One month full-featured Investar intraday subscription (worth Rs. 4245) OR Free One year intraday subscription on Smartphone/Tablet (worth Rs. 3771).
What is Dhan?
Dhan is a leading discount brokerage with Advanced Tools and Features to help you trade online in all key segments - Stocks, Futures & Options, Commodities & Currencies.
Why Choose Dhan?
Dhan account features
No Account Opening, AMC and Platform Fees
50% off on brokerage for women.
Margin Trading: Get 4X Leverage to trade in 950+ stocks.
Basket Orders: Build your strategies and execute them on go.
Free Advanced Options Trader App
Pre-built strategies: All popular pre-built option strategies available in real-time.
Screener: All popular option screener covering volume, OI, ATM, PCR
Option Greeks: Measure sensitivity of option prices and analyze your options strategy.
Deep OTM/ITM Options: Trade deep OTM/ITM options strikes directly from option chain.
Trader's Controls and Risk Management:
Trade better with Trailing Stop Loss
Get Alerts for Over-Trading
Get Alerts on Heavy Losses
kill switch on Over-Trading
Keep your Trader Buddy informed
Dhan for Investors:
Portfolio Insights: Get details & deep insight into your investments.
SIP in stocks: Invest long-term via Daily/Weekly/Monthly SIPs.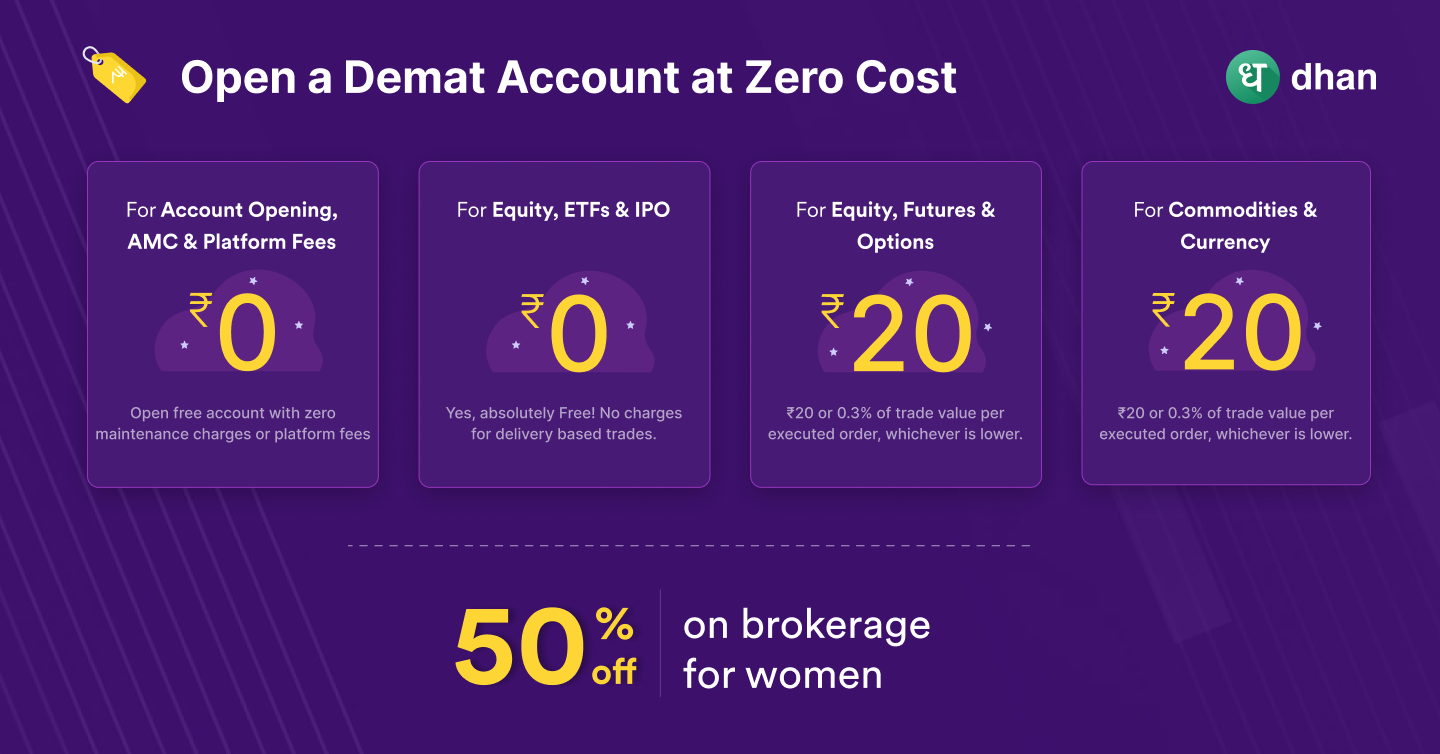 How do I avail the offer?
You can avail the offer in following steps:
Open a Dhan account using the link in the right (This offer is available only for those who have not opened a Dhan account before). If in doubt, please call +91-72280-42466 before initiating your eKYC process to confirm if you will be eligible for the offer.
Once you get a notification from Dhan that your account is opened, please call our Sales (+91-97250-10401) or Support (+91-97250-10402) or you can email us at dhan-accounts@investarindia.com with your Dhan client Id. and they will activate the Free Webinar + 1 Month Investar subscription or 1 Year smartphone subscription combo.
Register for one of the upcoming "Technical Analysis" webinars.
What if I am an Investar Subscriber?
If you do not have a Dhan account and open one through us, a free webinar and free 1 Month Investar subscription or 1 Year smartphone subscription will be added to your current subscription.
What if I already have a Dhan account?
Sorry, but this offer is only available if you open the account through us and is mapped under our name.