Exclusive Zerodha Account Opening Offer – Upto ₹6245 value

Investar partners with Zerodha to provide you this exclusive offer
Open a Zerodha account with us to get a FREE Technical Analysis webinar + One month full-featured Investar intraday subscription or One year intraday subscription on Smartphone/Tablet combo (a Rs 6245 value).
What is Zerodha?
Zerodha is a leading discount brokerage with 5+ million happy customers with the following benefits:
FREE Equity delivery trades
Buy 'n' number of lots at only Rs 20 per executed Order
Huge savings over other brokers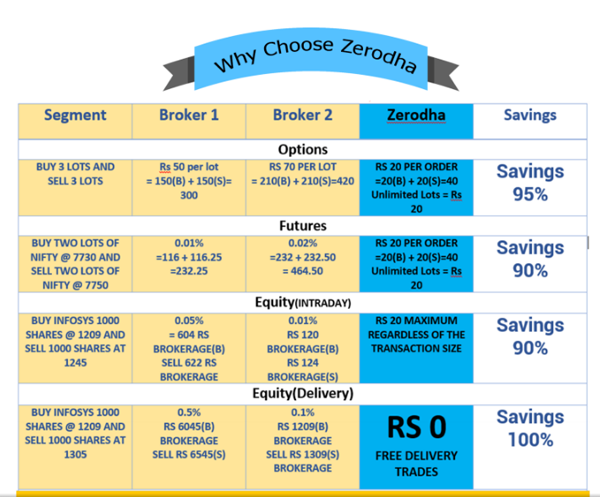 Why open an account through Investarindia.com ?
By opening an account through Investarindia.com, you will get to attend our FREE 5.5-hour webinar , "Basics of Technical Analysis" (worth Rs.2000) by our founder and Chief Architect, Himanshu Patil, in which you will learn the basics of Technical Analysis and learn practical strategies that will help you trade profitably in the markets. In addition, we'll also throw in a FREE one month full-featured Investar intraday subscription (worth RS 4245) OR FREE one year of smartphone app subscription with Pro TA addon and 1-min data for Cash or F&O (worth RS 3771).Investar also now provides integration with Zerodha, so you can directly place orders through Investar software and track the executed trades automatically in our unique and powerful Portfolio Manager.
How do I avail the offer?
You can avail the offer in the following steps:
Sign up using the form on the right.
You will get an email with instructions on how to open a Zerodha account. For any questions on the instructions, please call
+91-72280-42466
Once you get a notification from Zerodha that your account is opened, please call our Sales (+91-97250-10401) or Support (+91-97250-10402) or You can email us at zerodha-accounts@investarindia.com with your Zerodha Client Id. and they will activate the Free Webinar + 1 Month Investar Subscription or 1 Year Smartphone Subscription combo.
Register for one of the upcoming "Technical Analysis" webinars
What if I am an Investar subscriber?
If you do not have a Zerodha account and open one through us, a Free webinar and FREE 1 Month Investar Subscription or 1 Year Smartphone Subscription will be added to your current subscription.
To avail the offer, email and aadhar-linked mobile* in the sign up form above should be same as in the forms you send to Zerodha.
What if I already have a Zerodha account?
Sorry, but this offer is only available if you open the account through us and is mapped under our name. However, you can always enjoy the benefits of trading through Investar into your Zerodha account!
Why trade through Investar?
Investar software provides a tight integration of Technicals, Fundamentals and Portfolio Manager with a powerful intraday screener which scans the market for Buy/Sell signals based on various indicators and candlesticks as well as our unique auto-support/resistance based scans.
You will soon be able to use Investar to trade directly in your Zerodha account and place the following :
Trades based on price alerts
Trades based on scan alerts (e.g., when a stock does a Auto-SR based volume breakout)
Trades directly from the chart
Trades directly from the Portfolio Manager
After placing the trades, they are entered directly into our Portfolio Manager.You can even see the trades and charts together, making it very simple to visualize if your buy/sell timing is proper or not so that you can improve on it and become a better trader.